The Soul Reaper is a level 2100 Raid Boss, which was added in Update 16, and can be summoned using a Hallow Essence.
The Soul Reaper is both a very easy Raid Boss to defeat (because the whole server joins fighting him when he spawns) and easily one of the hardest as it deals high damage along in an AoE move. It is generally recommended to take this Raid Boss on along with other players.
The Soul Reaper uses the Hallow Scythe with the same moveset as it.
Drops
Holy Crown (100% chance)
Bones (100% chance)
Hallow Scythe (5% chance)

As with all Raid Bosses, the player needs to have done at least 10% damage to the Soul Reaper in order to get these rewards.
Summoning
To summon the Soul Reaper, the player needs a Hallow Essence, which can be acquired in 2 ways.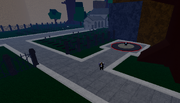 The Hallow Essence can then be used on the altar with blue flames (see image) right next to the graveyard that has the Death King and the Gravestone. Walking up onto the altar while the Hallow Essence is in the player's inventory will summon the Soul Reaper, along with the chat message "An unknown being has entered this world...".
Location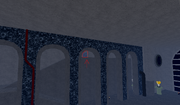 Strangely enough, the Soul Reaper doesn't spawn where its summoning item is used. Instead, it spawns in a little back section of the Haunted Castle, available through a backdoor, as shown in the image to the right.
Tips & Strategies
It is recommended to use high-damage and tanky fruits like Dragon, Venom, Magma, String or Buddha to defeat this boss. If you don't have any of these fruits, it's recommended to invite a few friends.
Make sure to stun the Reaper whenever you can, since it's fast and uses a lot of low-cooldown moves.
Buddha's awakening is a very good choice for defeating this boss, and you can definitely solo this boss easily using it.
It's a good idea to run in circles around the Reaper, stun it, and then hit it as much as you can.