This Accessory is currently unobtainable.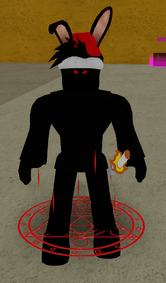 The Santa Hat is a Limited Time accessory that was first added in the Thirteenth Update, and added again in Update 17 (Part 1). It is a Rare Accessory. It Costed 500 Candies from the LIMITED TIME NPC "Santa Claws". Santa Claws is located at Middle Town in the First Sea, and outside of Flamingo's Mansion in the Second Sea. This is highly considered as one of the best accessories in the game, due to it's high health and energy buffs compared to others, as well as one of the highest speed and damage buffs.
Boosts:
12.5% more damage on Blox Fruits/Sword attacks.
400 energy and 400 health.
Pros
Very good for sword or Fruit mains.
Gives lots of HP and Energy (only 200 less than Dark Coat.)
Has a good speed boost.
Can be better than Dark Coat.
Easy to get.
Cons
Only buffs sword and Fruit.
No cooldown reduction.
Comparison with Swan Glasses
Santa Hat surpasses Swan Glasses for speed by 5% (Swan Glasses offers 25% speed bonus), however, Santa Hat's 12.5% bonus damage only applies to Blox Fruits and Sword stats, meaning that most builds will only benefit from one of these category bonuses, since only hybrid builds posses Blox Fruits and Sword stats at the same time. Swan Glasses provides 8% bonus to all damage and 8% cooldown reduction.
Santa Hat does not surpass Swan Glasses in the health/life category. This is due to the fact that even though Swan Glasses only offers a 250 HP buff, It also has 8% less damage taken. Meanwhile, Santa Hat only offers 150 more HP than Swan Glasses (250HP for Swan Glasses and 400HP Santa Hat), but since 150 HP is not better than 8% more defense that Swan Glasses provides, that makes Swan Glasses a better defensive accessory.