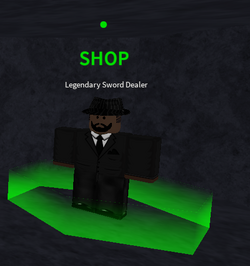 The Legendary Sword Dealer is a very rare NPC that only spawns in the Second Sea. Each time he spawns, he sells one out of 3 legendary swords, that being Shisui, Saddi, and Wando. Each sword costs
2,000,000.
The Dealer only spawns at a certain interval, which can be checked by talking to the Manager (more on that on said page). The Manager will give the player different dialogue depending on how much time is left before the dealer spawns.
Notes
The time for the Dealer to spawn is relative to how old the server is (e.g. if you are in a 12 hour old server it will take about 3 more hours for another one to spawn).

In private servers, since they are started when the first player joins, the player will have to wait 4-5 hours.

The Dealer does not sell the player all 3 swords at once, he sells them separately, each spawning with a 1/3 chance.

This means that the Dealer might be selling a sword that the player already has when spawned.

Upon joining a server, the Manager will say "It's still too early for you to be here.", regardless if it's a public one or not.

He will only state a different dialogue once 10 minutes have passed since the player joined.
This is to prevent server-hopping.
Locations
Location

Image
Inside the north-east arches of the Colosseum.
Inside of the waterway that tunnels underneath the Kingdom of Rose, directly in the centre, on the left-hand side of a rock.
In the Green Zone, on top of one of the leaves that is attached to the largest beanstalk, which is located in the center of the Green Zone.
In the Green Zone, behind the 3-rock formation close to Fajita.
The Graveyard, atop the tallest central peak.
Behind the grassy rock plateau near the Factory. It's the one closest to Jeremy.

Usoap's Island, inside of the centre house.
Trivia
The Dealer disappears after a player purchases a sword off him.
Once the player has all three legendary swords, the "Gone." dialogue will trigger when spoken to.
The player can purchase a legendary sword at any time, they only need the Manager to tell when the Dealer spawns.

This means, in theory, that you can collect all three swords without using the Manager. This is just a waste of time, though.

He bears a resemblance to the Blox Fruits Dealer Cousin.