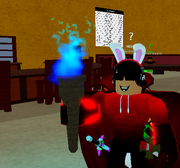 The Hellfire Torch is an item that can be obtained with a 10% drop chance by defeating the Cursed Captain (raid boss), which spawns on the Cursed Ship. It's required in order to purchase the Ghoul race for 100 Ectoplasm. This item was added in Update 12.
Notes
After the Torch is given to Experimic, the player does not have to get it again to buy the Ghoul race, regardless if they rejoin.
The Torch will be removed from the player's inventory upon death/leaving the game.
The drop chance for the Torch is estimated to be around 5-10%, however further research will be needed on this end.