Info
The Floating Turtle is an Island in the Third Sea of Blox Fruits, where you can farm from levels 1775 - 1975 (Enemy lvls).
It is the largest island in the Third Sea and second largest land in all of Blox Fruits, losing only to Kingdom Of Rose.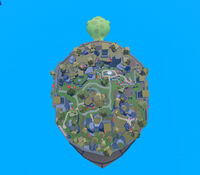 It has the highest number of Elite Pirate spawn locations with about 8 places.
The Floating Turtle is the third to last island in the Third Sea. You can get to level 1975, very easily on this island.
The Floating Turtle island also bears the Mansion, a crucial building in the Third Sea.
There is a symbol in one of the structures of the island and alongside it is a torch. The symbol most likely means the number 2 in Roman Numerals. This torch is the second of the five torches, needed for the completion of Tushita Puzzle. You can ignite these torches with an item called the "Holy Torch".