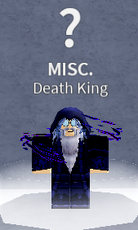 As of Update 17, the Death King can only be found in the Haunted Castle in the Third Sea.
Info
Death King is an NPC located at the Haunted Castle. He was added in the 16th Update. This NPC will sell the player a random reward in exchange for 50 Bones. The player can only purchase 10 Random Surprises every 2 hours.
Bones can now only be found at the Haunted Castle, from killing any NPCs there. They are unobtainable anywhere else.
Sells
Trivia