The Citizen is a quest NPC who was added in Update 15.
The quest can only be started if the player is Level 1800 or above. If the player isn't Level 1800, the Citizen will respond with "The city is being attacked!" when talked to. The Citizen's quest is required to be completed in order to access Observation V2.
Location
The Citizen can be found near the Third Sea Mansion, on the Floating Turtle.
Description: Defeat 50 Forest Pirates.
Rewards:
100,000B$
250,000,000 Exp.
Description: Defeat Captain Elephant.
Rewards:
50,000B$
100,000,000 Exp.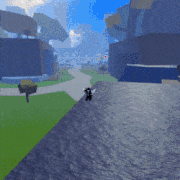 Collect the Musketeer Hat. The location and what wall to break can be seen on the GIF to the right.