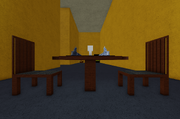 Chess is a small easter-egg minigame developed by norperz, where two players face off in chess. There are two chess tables in Blox Fruits, one in the Mansion (Third Sea) and one below the Café (Second Sea)
Notes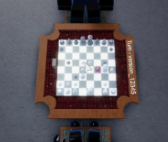 You can earn the title "The Mastermind" for beating someone in chess.
You need 2 people to start a game of chess or else you won't be able to move any pieces or do anything to the board.
This game may be harder for some mobile players so it is not recommended to play if you are on mobile. It is also impossible to play on Xbox, unless you manage to zoom in your camera when you joined the game. To play this game more easily on mobile, turn off shift lock.
Castling does exist. In fact, you can earn the title "The Mad King" for castling someone.

To castle you have to get the bishop and the knight out of the way. And then you move the king 2 square to the rook. You can also do the same thing but on the queen side, in which case you'll have to move the queen out of the way too.

If you drop a fruit on the table when 2 people are playing, the fruit will float on the table and you can stack them. Fun thing to do when you have too many fruits.