Description
The Bridge is a landmark that connects the Kingdom of Rose and Green Zone, allowing for safe and easy travel between the two islands.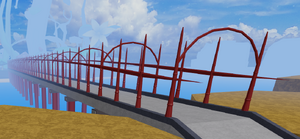 The player may also find an NPC named Plokster here. He will reset your stat points for

2,500.
Trivia
The largest object you can levitate with Control's [X] move is the mid-section of the bridge.